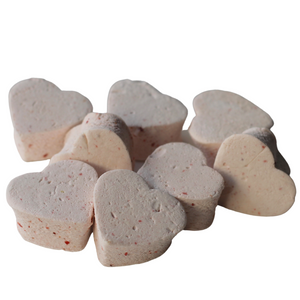 ***VALENTINE'S ORDERS ARE CLOSED***
If you would like to still order this item, you may do so, but please note that we cannot guarantee this shipment will go out in time for Valentine's Day. The cut-off for Valentine's orders is February 4th. Please see all other shipping policies here.
Love is in the air, and marshmallows! These delightful strawberry marshmallow hearts are sure to lift your spirits, or show someone special you're thinking of them!

8 marshmallows per package. 
Each marshmallow is cut into a square, approximately 1.5"x1.5"x1". 
Gluten Free, Dairy Free
Ingredients: sugar, water, honey, salt, gelatin, cornstarch, strawberry
Contains: soy
Shelf-life: 4 weeks

***PLEASE NOTE*** 
All Valentine's Hearts will ship the week of February 8th. 
Any order placed that includes the Valentine's Hearts will ship out together. If you have multiple items in your order, that do not include Valentine's Hearts items, and would like those sooner, please place a separate order. All Valentine's Hearts orders must be placed by February 4th.